This is the Ultimate Guide to Apartment Marketing Ideas in 2023.
Yes, I'll cover some of the better-known apartment marketing ideas like Google Ads, but you'll also see new strategies like the 9-word email, recycling reviews and more. So if you're looking to improve your Apartment Marketing in 2023, you'll love this new guide.
Here's a quick breakdown of some of the Apartment Marketing Ideas you'll discover:
Optimizing Your Google My Business Listing

Testing Facebook's Marketplace

Geotargeting with Google Ads

Creating a Five Star Phone Experience

Use the 9 Word Email for Cold Prospects

Content Marketing for Your Community

Recycling Resident Reviews

Use an Email Script for Getting Reviews

Creating a Resident Touchpoint Plan

Running Facebook and Instagram Ads
Let's get started…
#1
The "TLC" Strategy for Improving Your Apartment Marketing
TLC is not just a girl-group formed in the 90s—it's a strategy that you can employ in your apartment marketing campaign.
TLC stands for Traffic, Leads, and Customers. Use this formula to identify where you need to up your game in marketing on a monthly basis. It's super easy to do.
T—Traffic
Identify the top five sources that send you quality traffic each month. Ask yourself what you can do to amplify that traffic. For example:
If Google/Facebook Ads are your top sources, consider increasing your ad budget over the short term to increase traffic
If Facebook Marketplace/Craigslist is delivering, consider posting ads more often
If organic traffic is a top source, then by all means spend more time optimizing your website focusing on the on-page SEO elements and consider what traffic sources you are not using—but should test.
L—Leads
The big question: How to convert more traffic into quality leads? Here's what you should focus on:
Reviewing website copy frequently to make sure messaging is on point
How ad copy and copy on your website compare
Carefully review email forms—are you asking too much or too little information from the person? Do they know what to do with the form?
Review Live Chat conversations to make sure what is said is correct—and that you're not missing any opportunities of how you could have said it better
C—Customers
Turn leads into customers—not an easy task. These tips will make it easier:
Review your leasing process—do you have a step-by-step plan in place for all members of your team to follow?
Add video messages to your email follow-up
Train, develop, and improve your phone/conversational skills
Improve response time on leads
Offer more options for apartment viewing and tours
One final thought: Start treating prospects like residents before money changes hands. Demonstrate your willingness to provide service and assistance. It just may provide the incentive they need to make the leap to resident.
#2 Use Local Keywords to Optimize Your Listings
Keywords are deal-breakers: use the right ones and you can rank higher; choose poorly and you may never get found. Of course, Google looks at other factors when deciding the fate of where a website lands on the page. However, using local keywords is super effective in optimizing your listings. And they are essential to digital marketing for apartments.
What's a local keyword? They are words or phrases that contain location-specific information. Thus, local keywords can generate results related to a geographic location.
For example, your property is located in downtown Cleveland. Your local keywords used in a Google search could include:
downtown cleveland apartments
apartments for rent in downtown cleveland
44115, 44113, 44114 (zip codes)
tremont neighborhood downtown cleveland apartments (specific neighborhoods)
tremont montessori school cleveland apartments nearby
#3 Keep That Brand Consistent (If You Want To Stay Top Of Mind)
The key to brand recognition is consistency. You want people to be able to see your ads or signage from miles away and know and remember your community.
Keep all your colors, fonts, photography, shapes, and logo the same across all your apartment marketing efforts, have a community name that fits your community's "personality," and keep your tone of voice consistent. Learn more about apartment branding, so you can get yours just right.
#4 Upgrade Your Apartment Logo (It May Need It)
Your logo should be an easily recognizable symbol of your community. Make sure it's clean and simple, and that people understand a little about your community at first glance.
Include your logo on every single marketing piece you develop, including business cards, signage, your website, and more. Read more about creating the perfect logo for your apartments.
Pro Tip: When creating a new logo, keep in mind the shape. If it's an odd shape (too tall or too wide) you'll have a hard time fitting it on your marketing material.
#5 Use QR Codes for Multifamily Properties
QR codes are an excellent way to share property information with prospects and residents. Are you taking advantage of these apartment marketing gems?
QR codes (short for Quick Response code) can be quickly read by a cell phone and whisk you away to a page or file on the Internet. Here are a few examples of how to put them to work for your property:
Use on banners or signage—especially where there is foot traffic. The person simply scans the QR code and immediately gets more info on your property.
QR codes continue to work after-hours so you don't have to worry about missing a lead from someone calling at midnight.
They are trackable—taking lead generation and nurturing to the next level.
They can be easily printed on business cards, brochures, floor plan handouts,
survey cards, A-frames, banners, or even shirts.
Need help creating an effective QR code? Check out QR Code Generator.
#6 Update Your Floor Plans
When thinking of apartment marketing ideas, don't overlook this relatively simple one: Updating your floor plans.
When was the last time your property did so? The technology that has exploded in this niche—3D floor plans—will make your property outshine the competition. 3D floor plans are easy to read and offer deeper insight and realistic imaging of the space. You can even
demonstrate what the unit with furniture would look like. And then offer a virtual tour!
When you allow your future residents to immerse themselves in the space—envision themselves living there—they will be more likely to reach for a pen to sign the lease.
#7 Offer Multiple Apartment Viewing Options
This digital marketing for apartments trick is essential in our ever-changing world. People need to know they have multiple options open to them in terms of viewing apartments and communities. Use your website and all social media platforms to let prospects know about the options you offer: in-person tours, self-guided tours, virtual tours, and 3D renderings.
Self-guided tours are gaining popularity because they mean less pressure for the prospect. No one is looking over their shoulder, constantly asking: "Well, what do you think? Ready to sign?" During a self-guided tour, the person can explore with freedom and at a time that works best for their schedule—not the leasing agent.
#8 Luxury Apartment Marketing That Crushes the Competition
There's apartment marketing… and then there's luxury apartment marketing. From your website to your logo to your slogan—it has to read high-end, luxurious living. Your upscale and discerning clientele expect more than a cookie-cutter approach to marketing. So speak to their language. Remember—you're selling more than just an apartment. You're selling a lifestyle.
Choose words and phrases for website copy and apartment marketing slogans that will appeal to their elevated style. For example:
Supreme residences for a modern lifestyle
Welcome to the epicenter of luxury and convenience
Where luxury city living reaches new heights
This is the lifestyle you deserve
#9 Site Maps Give a Bird's-Eye View of Your Community
An all-encompassing marketing plan for apartment complexes would include a site map of your community. This gives a "bird's-eye view" of your multifamily community—including buildings, parking, pool, common areas, green areas, and more.
It's an excellent opportunity to showcase your property, highlight distinctive amenities, and guide new residents and prospects in finding their way around confidently. Getting a complete picture of how big or small your community is and what it has to offer in terms of walking areas, green space, etc., will give prospective residents an accurate and detailed overall picture.
#10 Have a Call To Action (On All Your Marketing)
If you're wondering what a call to action is, you might be missing one of the most important components of your marketing efforts. So, you communicate what an amazing community you have…then what?
What do you want your prospect to DO?
This is your call to action. It should be something like, "Schedule a Tour," "Apply Now," or "Check Availability" along with a web address, phone number, email address, or other contact information.
Make sure that every one of your marketing pieces, web pages, ILS listings, and even Facebook page and Craigslist ads have a call to action.
Need some help coming up with the perfect call to action? Check out 63 Call To Action Keywords For Apartment Advertising and 167 Words To Spice Up Your Apartment Marketing.
#11 Slogans—Advertising Gems in Apartment Marketing
Choosing the right slogan for digital marketing for apartments cannot be overemphasized. Because when a slogan does its job correctly—evoking a feeling, an emotion, a picture in your mind, or a sense of urgency—it can strike the right chord with a prospective new resident.
Here are just a few examples of catchy apartment slogans:
Live where you work and play
Modern living in the heart of the city
Upscale, but not uptight
If your apartment was your best friend, this is what it would look like
Everything you've been dreaming of is here. Lease today!
Discover what it feels like to love where you live at [Apartment Name]. Lease now!
Need more inspiration? Check out this comprehensive list of 108 apartment marketing slogans that are sophisticated, unique, and memorable.
#12 The 5-Second Rule for Apartment Marketing
Done right, you can immediately grab your prospect's attention in less than five seconds. Like this:
1. When someone lands on your website, will they recognize within the first five seconds that they are in the right place? Will they know what action to take?
Here's how to make this happen:
Ensure the top image on your website is either a picture or video of your community
Add text—"Apartments in [Your Area]
Have a CTA button telling them what you want them to do next: View Floor Plans, Check Availability, or Schedule a Tour
2. When someone drives past your property, are your banners and signs highly visible and attention-grabbing? Make sure fonts are easy to read and of a contrasting color to stand out. Keep the text simple.
3. When a prospect is searching one of the ILS sites like apartments.com, does your listing immediately stand out? If not, consider your thumbnail image. Get creative with it—use an image with sunset-skies, inviting turquoise pool water, or a night shot. This will help separate you from the competition.
4. When sending out emails to prospects, make sure you use the prospect's first name and an emoji in the email subject line. People just can't seem to resist opening an email with this type of personalization.
#13 Give an Ugly Apartment Website a Makeover
Sure—your website may be functional and get the job done. But if it's an ugly duckling, then it's time for a well-deserved makeover. This is where you'll need to look at your beloved website with a critical eye—and fix what's ugly. A little highlighter here and there, a splash of color to breathe life, and a nip and tuck to smooth out the wrinkles. It doesn't take much time or effort—but the results can be quite dramatic.
Start with:
Update your images—Make sure your website pics are current (even reflective of the changing seasons) and are high-quality. Use stock photography for lifestyle images or videos that could represent your amenities. Check out istockphoto.com or unsplash.com for huge selections. Always keep in mind Fair Housing when choosing any type of stock imagery.
Change your fonts—Use up to three different font styles on your website. The right fonts can bring your text to life! They improve a website's look and readability. Search for fonts here: dafont.com or fonts.google.com.
Add some color—Change your color palette on your website to ensure you have enough contrast. For example, using a gray background with charcoal text will make it terribly difficult for anyone to read. Aim for simplicity by choosing a primary color and then a secondary bright color for areas you want to draw attention to. Try to incorporate your community's brand or logo colors if possible.
Update your copy—And this may mean you need to hire a professional freelance copywriter. Engaging, concise, and grammar-proofed copy doesn't happen by accident. If writing the copy yourself, use these tactics to make it shine:

Start with a short but bold headline. It could be as simple as "Welcome to Estancia Lofts."
Create short paragraphs no more than three to five sentences. People have short attention spans and like to read in short bursts.
Use bolded subheadlines.
#14 Focus on Your Apartment Website (Small Changes Yield Big Results)
Literally the most important part of your marketing, your website must be informative, easy to navigate, fast, and attractive. As we mentioned above, photography and copy are incredibly important to your website. You also want to make sure you have a responsive design – meaning your site looks good on any device – tablet, laptop, mobile, etc.
The page that will likely get the most traffic on your website is the Floor Plans page – so make sure that it looks good, loads properly, and has all the information prospects need, along with calls to action with a link under each plan.
Remember all your other apartment marketing pieces will drive people to your website – so make sure it's a perfect reflection of your community.
You also want to make sure that your website is optimized – so it ranks higher in Google search results. Which brings us to our next point…
#15 Create the Ideal "Schedule a Tour" Website Process
Another apartment marketing idea that deserves high marks is this: a frictionless "Schedule a Tour" process on your website. Because when an interested prospect can smoothly set up a tour from your site, the quicker they'll get to see the apartment, envision themselves living there, and then ask you for a pen to sign the lease!
But first you've got to put in a little effort to create a great "Schedule a Tour" process.
Here's how to do it:
Make sure the "Schedule a Tour" button is large, easy to read, and located in the top right-hand side. This button should present on all pages through the use of a sticky navigation bar. Don't make prospects hunt for it.
Once the button is clicked, let the person know they have landed in the right place—the words "Schedule a Tour" should appear at the top of the window confirming this.
Have an image of the exterior of the building to balance out the text.
Offer information about how long the tour will take and the physical address.
Allow the prospect to "Select Preferred Tour Type"—what will cater to them (in-person, virtual, or self-guided). You can even have a pop-up description of what each tour involves.
Incorporate an online scheduler. Make sure to use a visual booking calendar.
The final stage of making a tour reservation should include a "Confirmation" and then an "Option" section for them to tell you what matters most—move-in date, number of bedrooms, budget, etc.
#16 What a Great Meet the Team Page Should Have
Your apartment community website isn't complete without a great Meet the Team Page. Here's why: It allows residents and prospects to get a sense of who you are and introduces them to your property's team.
So, what makes a fantastic "Meet the Team" page? It should:
Have a ton of personality—aka NOT BORING
The top hero image is alive—show a lifestyle image where people are in action, doing something exciting like jumping in the air
The top hero changes with the season—change is refreshing
The copy on the hero image is positive, upbeat—"Meet Our Awesome Team. We're here for you."
Use team images that are professional, well-lit with consistent backgrounds, and have a short bio under each team member. Use a "Read More" or "Connect" button so prospects can reach out with questions or comments
#17 When People Search for Your Community, Make Sure They Find It
If someone drives or walks by your community, and later wants to learn more about it, he or she is likely to do a Google search. Is your community showing up first? If not, here's what you can do:
Review your on-page SEO. Here's a quick crash course on SEO if you need a refresher.
By adding your community name + local area to the title tag, meta description, and throughout your home page content, this in most cases will be enough to get your community ranked. If someone doesn't know your community name, you also want to rank by inserting keywords, like "apartments + location" throughout your content as well.
If you need more help, check out our Apartment SEO Services.
#18 Don't Forget to Claim & Optimize Your Google My Business Listing
When someone does a Google search for your business, your Google My Business listing will appear to the right-hand side of the page. You want to make sure you "claim" your listing, meaning you include all pertinent information that someone would want to see, including phone number, email, web address with links, reviews, photos, community description, special offers, and anything else that would entice someone to navigate to your website.
Learn more about claiming your Google My Business listing and check out these Google My Business examples for post inspiration.
#19 Drive More Apartment Leads with Craigslist
Craigslist is unique in that you have to essentially get your prospect to click on your ad based off one line of text. Make your description as detailed and enticing as possible. Another trick is to include symbols in your ad title (you can simply copy and paste the symbol from Word).
Pro Tip: Adding a keyword box to the bottom of your Craigslist ads will help you appear in more searches. Just think about what words people might be typing in to find your property and add those to your box.
#20 Test Facebook Marketplace for Property Rentals
Facebook Marketplace is an untapped lead resource for luxury apartment marketing. Start using it before your competition does. Very much like Craigslist, the posting process is easy. Remember, great ad titles, good copy, and quality photos will deliver more leads.
Want more detailed instructions on using the Facebook Marketplace for marketing your apartment complex?
Here's a good article: Generate Leads Right Now With Facebook's Marketplace.
#21 Get More Leads for Less Money with Facebook Paid Ads
Facebook Paid Ads is a good way to generate massive impressions for your community at a low cost. Invest in boosting posts and test multiple ad types to find the winners.
Here's a resource that can help you improve your ads.
The Facebook Ad Library was made available some time ago, yet not many people know about it.  The Ad Library will show you ads that are running from any multifamily company on Facebook.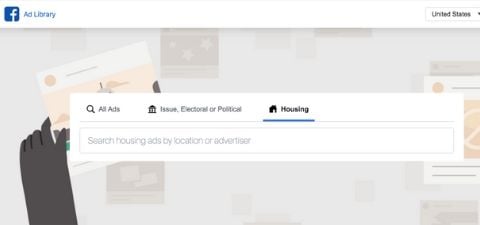 For example, searching competitor apartment community names and even keywords like "apartments in your area" can show you the current ads that are running.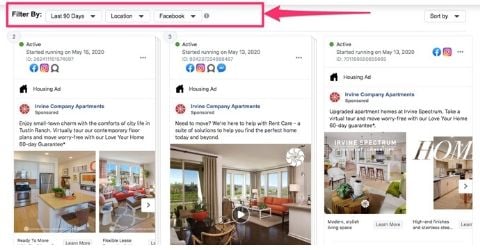 I've found the Ad Library to be beneficial for:
Giving you insight into competitors
Giving you insights into ads that are working well
Giving you ideas, inspiration & guidance for your own ads
For example, if you see ads labeled "Active" and the "Started running date" is more than three months old – there's a good chance those ads are generating traffic & conversions for that property.
If you want to check out the Ad Library just click here.
#22 Stay Active on Social Media
If you aren't using social media, you could be missing a huge opportunity. Social media is an excellent way to engage with your audience and add a little more personality to your brand. To start, sign up for Instagram, Twitter, and LinkedIn and post a few times a week.
 You can stay active by giving community updates, sharing resident or staff profiles, running contests, posting event information, and more. People love seeing funny videos or behind-the-scenes action shots. Even just a simple, "happy Friday" post generates interest.
The more shares, likes, and comments you get, the more word will spread about your community. So, offer incentives for engagement – for example, "like this post for a chance to win a gift card to the pizza place."
#23 Get Posting on Pinterest
People go onto Pinterest for inspiration –, especially for their homes. This is a perfect platform to post gorgeous shots of the interior and exterior of your apartments. You can then link all your photos back to your website. According to Hootsuite, more than half of users make a purchase based on something they saw on Pinterest.
If you have a blog, you could also create pins that link to that content as well. Be sure to use keywords in your pin descriptions, and any time you post a nice image somewhere else, make sure people can pin it onto their boards. With over 250 million users, Pinterest is a great place for luxury apartment marketing.
#24 Follow Your Competition on Social Media
It's important to always be aware of what your competition is doing and social media is a great place to keep dibs on other communities. By following other apartments on social media, you can see what their audiences are responding to, and replicate that content for your community.
For example, if a neighboring community is offering a move-in special, you'll want to create some sort of special that is equal to or better than theirs.
#25 Introduce Your Team—A Great Apartment Marketing Idea!
More than ever, people want to feel connected to others—in person and online. And people love a good story. So share your apartment community story and introduce the team. Start making connections between your residents and your property staff.
How to do it: Let your residents know who they'll be seeing around the complex hard at work. Share a few personal notes about what makes your staff members so special. For example, what causes or charities do they support? What kind of volunteer work do they engage in? Or provide an instance of how they went "above and beyond" to help a resident.
When considering marketing ideas for apartments, don't forget about the human aspect: The property team that keeps everything running smoothly.
#26 Apartment Marketing Banners and Signs
Digital marketing for apartments is undeniably essential, but printed marketing tools still carry a lot of advertising weight. Banners and signs are extremely effective in drawing attention—especially in high-traffic settings.
Property banners are an excellent tool to drive interest in apartment buildings under construction. Ensure the banner is LARGE enough to be easily read from a distance (walking or driving by the building). Include your community name, logo, contact info, and website. Use fonts and colors that are simple, complementary, and not distracting from the message.
Banners and signs are also great to use when a complex is being renovated or rebranded. Be sure to claim your Google business listing with the new name to make sure you will have a presence on the search engine.
#27 Offer Amenities Millennials Want (and Think They Need)
With millennials spending more on rent as a percentage of their income compared to Gen Xers and baby boomers, they expect to get as much value as possible. And by value, I mean amenities. They want and need modern options such as:
In-unit laundry
Ability to pay rent and request maintenance right from their phone
Food-delivery options
Updated gym equipment and space for yoga
Package rooms
Smart home technology
Well-designed common areas for socializing and hosting parties
Pet friendly
Valet trash (who has time to make the daily walk to the dumpster?)
You need to think like a millennial to attract and retain millennial renters.
#28 Let Residents "Take Over" Your Social Media
Word of mouth (or post) is still an incredible way to gain new leads. Offer for a resident, ideally with a lot of followers, to "take over" your social media accounts for one day.
He or she can post typical "day in the life" content around your community. For example, how he or she uses the amenities, like the pool or dog park, or, perhaps how he or she decorated his or her apartment.
#29 Include a City Guide on Your Website
Have a section of your website dedicated to hot happenings around town, complete with event descriptions, dates/times, and venue details. If this is done well and kept up to date, you better believe it will bring traffic to your site from not just residents but prospects as well.
#30 Use Google Ads for Unlimited Traffic
Google Ads (formally AdWords) continues to be a powerhouse for delivering quick, quality traffic to community websites, as it allows you to pay for ad space at the top of Google search results.
You essentially only pay for the ad when it's clicked on by users and drives traffic to your site. If you find that you aren't ranking organically, it's a good idea to pay for that top spot.
Spend more when you need more traffic and spend less when you don't. Great for lease-ups.
Google Ads is constantly changing, if you find yourself needing help, check out our Apartment Google Ads Service.
#31 Use Google Ads for Retargeting
Ever notice that when you look at a web page once, ads for whatever you were looking at will "follow you" around on other sites you visit too? This is retargeting and is an excellent way to stay in people's minds even as they navigate away from your page.
#32 Use Google Ads for Geotargeting
Geotargeting through Google Ads works extremely well. Imagine drawing a one-mile radius around your community and serving up ads to all the people in that area. Clicks can be ridiculously cheap at less than 15 cents.
#33 Make Chatbots Available When Your Agents Aren't 
Chatbots are becoming popular as a way of automating conversation on apartment websites. They work extremely well at providing website visitors with any information they may be needing without human intervention.
When a user visits your site, a small robotic chat window will appear ready to assist users in finding something on your site or answering questions. This is great for when your leasing office is closed or your agents are busy. Learn everything you need to know about chatbots.
#34 Create a Five-Star Phone Experience
People have generally poor experiences calling customer service lines – representatives can be moody, unknowledgeable, or even just unavailable. This isn't to say the same for your community, but it's super important to stay on top of how your agents are treating residents and prospects over the phone.
Place a few test calls monthly to your community and grade your experience. You will quickly be able to identify areas for improvement or feel satisfied with your agents' abilities. Check for their tone of voice, knowledge about the property, rent, floor plans, etc., and how they "sell" your property or try to get prospects in for a tour.
You could also place some test calls to competing communities to assess and learn from them.
#35 Hand Write Thank-You Letters
Handwritten thank you letters have become somewhat of a lost art form. Think about sending a thank you letter to every hot prospect that tours your community. Also, send a thank you and welcome letter after a new resident moves in. Hand-written letters sent via mail are more likely to get opened too, as people will know it's not typical junk mail.
Looking for more apartment marketing ideas like this? You may want to check out:
How To Properly Follow Up With A Prospect That Just Toured Your Community
#36 Offer Extended Hours for Package Pickup During the Busy Holiday Season
Here's a thoughtful apartment marketing idea: When package deliveries are at their peak, extending the hours that residents can stop by to pick up their packages will be greatly appreciated. And be sure to remind your residents of package pickup policies.
The holidays can be stressful and busy. Show your residents you are thinking of their needs as well as your own.
#37 Extend Your Leasing Hours
Consider extending your leasing hours to about 8 p.m. While competitors are typically only open during the day, most people would pop in for a tour on their way home from work or after dinner. Take advantage of this and advertise your longer hours – especially in the summer months when it gets dark later.
#38 Bring Empathy to Your Apartment Marketing Emails
Email is just another tool in your digital marketing for apartments toolbox. However, adding empathy—the human element—will go a long way in getting those emails opened and read. Here's how to do it:
Always send from a person's name (according to The American Marketing Association, their clients increased open rates by 20% when switching their sender from a brand to a person's company email address)
Acknowledge the elephant in the room—if the email addresses a difficult topic, don't dance around it. Instead, be transparent and concise as you communicate
Practice giving—provide value in the form of engaging content
Say Thank You—sincerely thank your prospects and residents for taking the time to read your email
Watch your tone—your reader can't hear your voice, so adding proper tonality will get your point across. If appropriate, use emojis or humor with images to convey friendliness and fun
#39 Use the Nine-Word Email
The nine-word email should be used for reactivating cold prospects. You want to make sure it's super short and to the point, hence only being nine words. The goal is to remind prospects about your community, without being salesy or pushing, and try to generate renewed interest.
It could be as simple as: Hey, wondering if you're still interested in our studios. If yes, click here.
Pro Tip: Using the word, "hey" in the subject line works well in getting people to open the email.
#40 Improve Your Email Open Rates
This tip will help you to improve your open rates—by 5 to 10%. For example, you've built an email list of interested prospects for a new development soon to open. You send an email blast out to this list with updates. However, not everyone is going to open your email (that only happens in a perfect world…).
Next step: Wait three days and then go to your email solution (MailChimp, Constant Contact, CRM) and resend the email to everyone who didn't open the first one. Just make sure to change the subject line!
You can use this strategy for any type of email blast:
Prospect emails
Resident events
Development updates
Community updates
#41 Get Familiar With Digital Marketing Terms
Apartment marketing ideas for 2023 are highly focused on using digital marketing methods. But if you're unfamiliar with the myriad of terms and acronyms surrounding digital marketing, you may be missing out on some great opportunities.
For example, do you know what the following terms mean and how they are used in digital marketing for apartments?
A/B Test
Bounce Rate
CRM
Email Blast
Page Rank
Check out this ultimate guide of digital marketing terms and what they mean.
#42 Get Creative with Resident Events
Waffle bar, bagel bar, nacho bar, ice cream bar, doughnut bar…believe me, if you host it, they will come. Get creative and show your residents a good time. They'll be able to mingle with neighbors, get to know the staff, and enjoy some treats. They may even bring a friend who is looking for an apartment, or post to their social media accounts to spread the word.
Another idea is to host a community garage sale. You could designate the parking lot space to hold the sale, and invite residents to participate. This will generate a lot of foot traffic to your community.
You could also allow local businesses to hold events at your community…which brings us to our next point.
#43 Partner with Local Businesses
Stay active in your community. Go to the local cleaners, restaurants, moving truck company, and more and form partnerships. When someone signs a lease, you can give them a welcome package with coupons to each of the locations, or a guide to the city with your recommendations. In turn, those businesses will do the same for your community with their customers.
#44 Offer a New Home Orientation
Take the stress out of moving-in day by assuring your new residents that you offer a new home orientation to welcome them to the community. This could coincide with a final walk-through inspection at the lease signing.
Besides handing over the keys to the entry door, mailbox, garage door, laundry center, extra storage, gated entries, etc., offer reminders about home operations. This would include the thermostat or any apartment systems that could be confusing and cause frustration. Offer to show how to access other amenity locations on the property. Take the time to answer any questions.
And a detailed marketing plan for luxury apartments should always include a personal "Welcome" to new residents that provides details about the property and an appropriate housewarming gift.
#45 Assure New Residents the Apartment Will Be Move-In Ready
No one likes to walk into a dirty hotel room. Sure, the front desk clerk then blames the cleaning staff. And the cleaning staff blames the front desk for not telling them the room needed to be cleaned. The blame is shifted back and forth… In reality, the hotel manager should be the one apologizing and taking the blame.
So it goes with the leasing team and the apartment complex maintenance team. Your new resident could turn the key and walk into their new home on moving day only to find the apartment is not ready. How frustrating!!! And who are they going to call? You. The leasing team should always do a final walk-through to confirm everything is perfect.
Here are a few steps to take to ensure the apartment is ready:
Ensure a thorough cleaning has been done
Set the HVAC system to a comfortable setting
Plug in the refrigerator and turn on the ice maker
Test the smoke detectors and replace low batteries
Check the water flow in the sinks, tub, and shower. Flush the toilet.
Check the kitchen sink and garbage disposal for leaks
#46 Get Creative with Move-In Gifts
Are you sending a move-in gift to new residents? In addition to the coupons we mentioned above, give a little welcome gift. Some examples could be a house plant, doormat, removable hooks (perfect to avoid nail holes), or maybe a gift card for a food delivery service.
#47 Create Fun Resident Renewal Reminders
Residents always need to be reminded when their lease renewal is coming up. Get creative with your renewal reminders.
For example, you could give a donut in a box with a note that says, "Donut forget to renew your lease by January 1."
Or, give residents a tin of popcorn and a note that says, "Pop into the leasing office to renew your lease by January 1." Check Pinterest for more fun ideas.
#48 Create a Resident Retention TouchPoint Plan
Create a 12-month resident touchpoint plan to learn what makes your residents happy or not and whether they are satisfied living there. This will make the resident feel as if they're truly being taken care of.
Most people won't initiate complaints, so by opening the door for residents to give their input, you'll learn how you can make your community a positive experience for everyone. This is also a good way to generate positive reviews.
Have new residents moving in? Check out this valuable resource:
Create The Ultimate Resident Move-In Experience In 5 Simple Steps
#49 Create a Proactive Review Plan
For reviews, invest in a third-party service that provides a dashboard or platform for management. Just make sure you have a plan in place for how you want to respond to reviews – good and bad. It's important to always respond.
#50 Always Ask for Reviews 
Don't be shy when it comes to asking people to give your community a review – obviously if they seem satisfied. For example, when a resident is handed his or her keys at move in, you could ask, "Why did you choose to lease here?" Type up his or her response and add their testimonial to your website (make sure they know first what you are using it for).
Or, you could ask current residents who are renewing their lease what they like about living in your community.
#51 Get More Reviews with this Email Script
What I like most about this email is, it clearly tells the resident what they should do. Also, it asks for the review at the proper time – right after the resident renewed his or her lease.
Click here for the text version of the above email so you can easily copy/paste.
#52 Recycle Your Reviews
I love creative apartment marketing ideas that are easy to execute on. Why just use a review once? Take a screen grab of it and post everywhere. It will only help build the case that your community is a great place to live.
#53 Resident Sign Strategy for Boosting Reputation
This is an easy strategy, especially if you prepare your signs in advance. Create a few fun signs and ask residents to take photos with them around your community, so you can post on your website, social media, and anywhere else you see fit. Your residents can post the photos too and tag your community for even more exposure.
Think about putting a goal in place of how many resident photos you'll get monthly.
#54 Create a Community Hashtag
Create a fun hashtag for your apartment community. This could be something like #FunAtCommunityName or #CommunityNameLife. This is a great opportunity to get residents to engage with your apartment brand and to gain additional exposure. You could also repost their images on your account for some user-generated content.
You could even hold some kind of contest, where residents post photos of themselves around your community, use your hashtag, and you select the best photo every week for a gift.
#55 Start an Exclusive Apartment Community Blog
Here's a fun apartment marketing idea that can be easily promoted—starting an exclusive community blog. Promote it on your website and social media channels. Keep it engaging and fun. The goal is to create a sense of community—a way to share with current residents and future prospects the reasons why your complex and location are desirable. Write about property updates and renovations, new amenities, upcoming resident events you'll be hosting, and events in the local area. You can even invite residents to be guest bloggers and share a story, a recipe, a career tip, a book review, etc.
A successful blog can increase web traffic to your site, provide an open forum for exchanging ideas, and increase connectivity.
#56 Get Your Hands on Some Content Marketing
Create a blog and become a reliable source of information. You could post relevant, interesting content that people search for and enjoy reading.
This is far from salesy.
It's basically showing readers that you are the subject matter experts, and this drives people to your site. Topics could be apartment-living related, like how to entertain in smaller spaces, how to be a good roommate, or the top 10 events happening in your area this month.
#57 Don't Be Camera Shy – Try Some Video Content
Getting in front of the camera is tough for a lot of people, but video is a great way to get people's attention. Start producing videos and posting them on a YouTube channel, your website, blog, and social media channels.
Videos could be simply you talking about an interesting topic and offering some tips, or could show behind the scenes at your leasing office, a home tour, community tour, or day-in-the-life content.
Here's a quick video creation formula I've used over the years that can easily be applied to apartment marketing.
It's called the 10×10 Formula and when executed on will give you 20 short videos for your apartment community.
Here's how it's done:
Step 1 – Write down your top 10 most commonly asked questions with answers you get from prospects/residents.
Step 2 – Write down your top 10 should ask questions with answers. These are the questions your prospects/residents should be asking but aren't.
Step 3 – Film yourself with your smartphone asking and answering the question. The goal is to have one question and answer per video.
For example:
Hi, it's Josh from Estancia Apartments. One question we always get asked is "Are we a pet-friendly community?" Yes! Estancia Apartments has an outside pet park complete with a dog wash station.  We welcome dogs and cats up to 75 pounds and have a 2 pet max limit. For more information or if you would like to check out one of our apartments give us a call at 855-360-9327.
Step 4 – You should now have up to 20 videos you can upload to a Youtube channel as well as your own website.
Step 5 – When uploading to Youtube give your video the proper title and description. I like including the local area in my title.
For example:
Title: Pet Policy for Estancia Apartments in La Jolla
Description: Just paste your question and answer used in the video here. Also include the property address, phone and website.
Presentation of information – These videos are meant to be somewhat educational with the idea of answering commonly asked questions about your apartments. Don't overcomplicate it.
#58 Try a Referral Program 
Word of mouth is still one of the best marketing strategies out there. Encourage your residents to refer friends and family to your community by offering a referral incentive, like $100 off a month's rent.
#59 Stay on Top of Apartment Marketing Trends 
As with all trends, pay close attention to what the giants are doing (Amazon, Google, Facebook, Apple). Study their strategies and find tactics worth implementing in your own communities.
#60 Swap Out Your Community Photos to Match the Season

Digital marketing for apartments must stay current. And switching your community photos to match the season can make a world of difference. Why show snow-covered decks in the middle of June? Hire a local professional photographer and get at least one or two exterior photos demonstrating the seasons. Then update your website to keep things current. Choose seasonal or holiday-appropriate photos for backdrop or to add context. You can find inspiring photos for any season or holiday on istockphoto.com.
#61 Yes, You Can Use Stock Photography
Investing in high-quality photography to showcase your property inside and out is Rule #1. No skimping allowed!
That being said, you can use creative stock imagery for lifestyle images, seasonal backdrops, or in other ways that are representative of people using amenities at your property. Seasonal or holiday-themed images can be used to switch up backdrops on your website to keep current.
Of course, stock photography should never be used in place of actual images of your property. You wouldn't want to give a false impression of your community's exterior, interior, or amenities. However, general lifestyle images are fine: a cat napping on a couch, a person playing with a dog outside, a couple cooking a meal, toes dipping in a pool.
#62
Photos Should Be Your Priority (You Already Know This Right?)
Of all the apartment marketing ideas that I've ever given, this still remains my #1 for 2023. There is really no better investment you can make than good photography. Hire an apartment photographer who knows exactly what to shoot, where to shoot, and how to get the best shots to sell your apartments. People are visual by nature – they need to see what your apartments look like before even considering living there.
Your photography will be used on your website, outdoor banners, and every other marketing piece you put out there. Make sure they are well-staged, clear, and showcase the very best of your community.
Make sure to create a shot list in advance and consider having the photographer shoot interesting neighborhood landmarks. Here are some recommendations for a shot list:
4-5 exteriors (building, community)
2-3 scenic/panoramic images
3-4 creative shots
8-10 interior shots (bedrooms, bathrooms, kitchens, living rooms, closets, patios)
All amenities
Unit – state-of-the-art appliances, including dishwasher, washer/dryer, any cool technology, wood floors, etc., highlighting anything that makes your property unique
Community – lounge, game room, office, gym, pool, fire pits, barbeque, etc.
In addition, when you get your shots back from the photographer don't be afraid to ask for touch-ups if needed. This is especially true if all of your photos have gray skies.
Request both print and web versions of the photos, and put them in a Dropbox or Google Drive folder, so you can share a link easily. For more tips on getting the best shots, check out our post on apartment photography.
#63 Great Copy Works Hand-in-Hand With Your Photography
The copy is just as important to your apartment brand as photography – both work together to communicate your message. Hire a copywriter to write catchy headlines, provocative descriptions, enticing calls to action, and to capture the overall personality of your community.
We cannot stress enough how important it is that your copy is error-free. You can have super clever wording, but if there are grammar or spelling mistakes, you will devalue your entire brand. Copywriters can also proofread your website content and marketing materials, to maintain the integrity of your community.
It takes a skilled copywriter to market your apartment community to get the results you're after.  Here are a few resources to help:
Grammarly – This handy Google Chrome Extension will check your copy for errors
ContentWriters.com – This site finds copywriters for you.
#64 Promote Pampered Pets
Are you looking for unique apartment marketing ideas? Try this: Focus on your four-legged residents. Yup, show how your apartment community pampers residents' pets.
Some people love their pets more than… well, people. So, generate new leads—very specific leads—by offering exclusive pampered pet amenities. Like this:
Partner with local dog walkers and offer your residents a discount
Dog run and fenced-off play area for socialization
Dog washing station
Provide access to grooming services onsite with a local groomer
Offer dog daycare and cat-sitting services (for owner's extended absence)
Host dog parties (Yappy Hour)
#65 Know Your Target Audience
You may have spent quite a bit of time and money on your outreach marketing ideas for apartments yet feel you are still not getting the return you hoped for. Everyone needs a place to live—so why aren't they finding your property? The problem may be this: You haven't figured out exactly who your target audience is.
An effective outreach marketing campaign for apartment complexes has to have a clear focus—who do you want to live in your community? Are you located in a college town? Then you'll want to use your advertising to appeal to students. Are you providing off-base military housing? If so, reach out to the bases in your area and tell them about your community and what it has to offer. Is your community pet-friendly? Have green spaces and parks nearby? Then be sure to advertise that on your website and even in your apartment slogans to grab the attention of pet parents looking for a home that welcomes their four-legged fur babies. You could even reach out to animal shelters in your area—tell them that your apartment community welcomes pets.
#66 Asking These Two Questions Can Help You Close More Leases
Yup—just two questions can do wonders! But they aren't just any two questions—they're the right questions!
First Question:
"On a scale of one to ten, how serious are you in choosing our community?"
Wait for their answer… then follow-up with the Second Question:
"What would make it a ten?"
The prospective resident will likely reveal what it would take to get the lease signed.
The beauty of these questions is that they can be used:
Over the phone
In-person
In an email
For lease renewals—just change up the wording slightly
Now It's Your Turn…
Take one of the apartment marketing strategies from above and implement it. Personally, I think you'll get the biggest results from #8 Claiming & Optimizing Your Google My Business Listing. It's free, easy to do and you'll more than likely see increased traffic immediately.
Like This Post?
Please take a second and share on your favorite social media.
Written by Josh Grillo
Josh Grillo is a #1 Best Selling Author, Speaker and Co-Founder of Resident360.
Leave a Reply